About Our Dance Lessons
Your main form of instruction at Librero's is through private lessons - customized exclusively for you. During your private lessons, you will develop most of your dancing skills. In addition, your teacher will monitor all of your dance activities, providing guidance and assistance along the way.
We also provide weekly group classes, where we introduce fun, popular variations. The purpose of our classes is to develop your ability to learn faster and to help you think outside of the box. Our classes are different than those offered at most other studios. Instead of only one or two teachers instructing the class, we have our entire staff present, and ready to assist - like having a semi-private lesson. Incidentally, each of our group classes are filmed, and made available complimentary to our active students online.

Club Parties
The heart and soul of our club is our fabulous dance parties provided each week. These parties offer a place to practice socially and the rewarding opportunity for you to realize your dance progress. The elegant atmosphere in our state-of-the-art facility, the comfort of our spacious floating wood floor, the friendliness of our members, and the music from the best orchestras in the world - provide a fun, memorable occasion every Friday evening to dance and socialize. And by the way, you will also be exercising...who said that exercising can't be fun!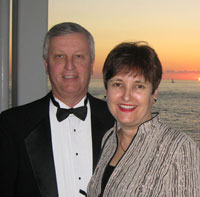 Phillip & Edna Broyles
It took over 20 years to get my husband to Libreros
Edna: "For over 20 years, I had an advertisement from Libreros posted on our refrigerator hoping my husband would get the hint" I was shocked when he scheduled our first dance lesson. We've been dancing now for over 3 years and have enjoyed our time together with amazing instruction and meeting so many new friends.

Phil: "I never thought I could dance, but the instructors at Libreros are terrific and make learning fun. I wish we had started 20 years ago."
​
Start Dancing Today!


Learn to Dance for fun and fitness. Enjoy our fabulous Dance Parties. Get ready for your Wedding Dance.
Our Dance Lessons make it easy. Call Librero's Dance Studio, Tampa.
Librero's School & Dance Club
150 E. Davis Blvd., Tampa, FL 33606 (Davis islands)
(813) 253-0644
Since 1979...Your Place to Learn...Your Place to Dance!